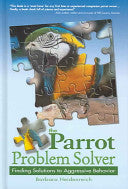 The Parrot Problem Solver
 

The Parrot Problem Solver.
Finding Solutions to Aggressive Behavior
By Barbara Heidenreich

Learn how to modify your parrot's aggressive behavior. Includes information on parrot behavior in the wild, 10 steps to address aggressive behavior, common myths and misconceptions about parrot behavior, real life case studies and their solutions.
---
---
More from this collection